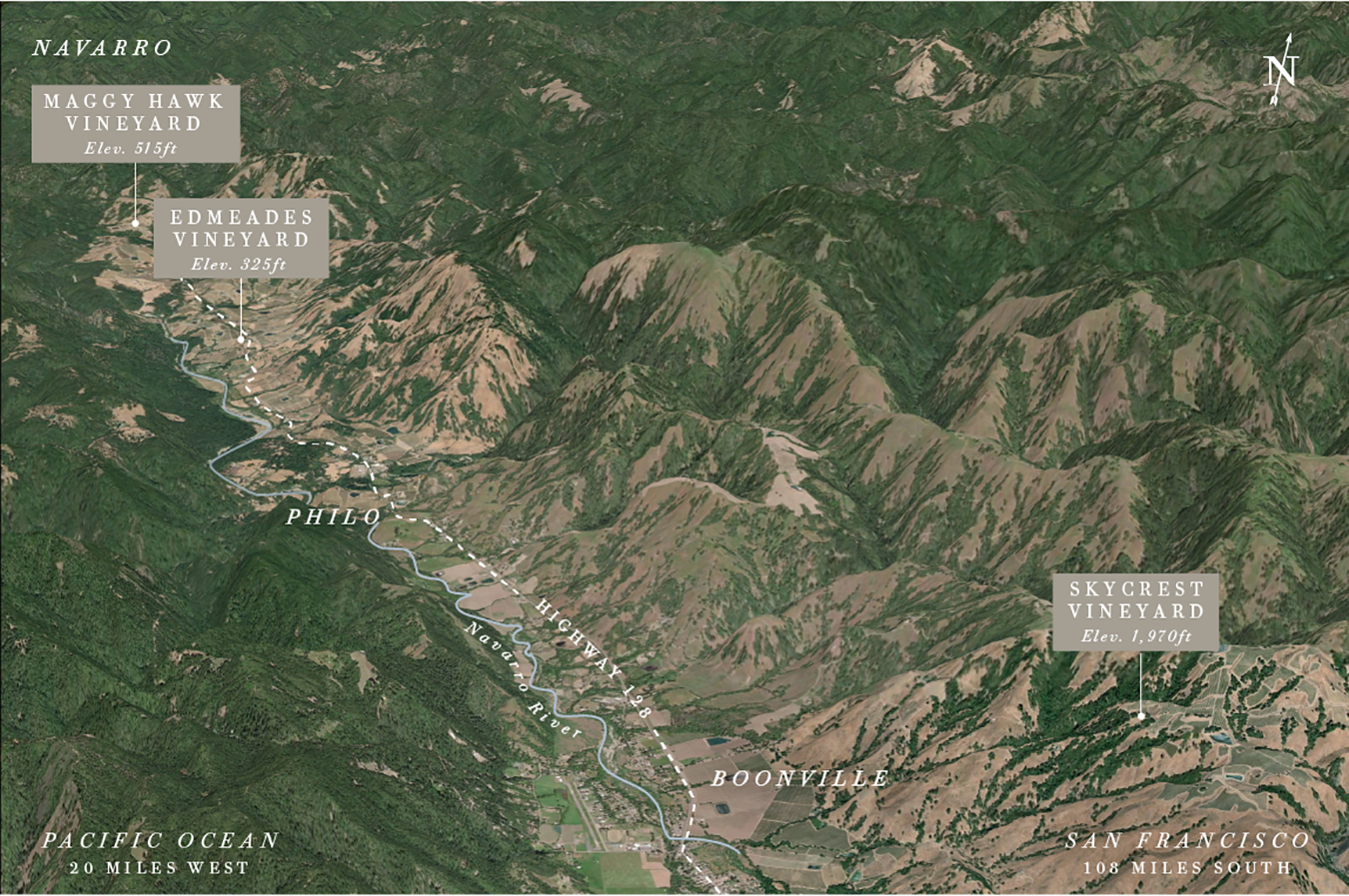 Maggy Hawk Vineyard
Anderson Valley, California
The Maggy Hawk Vineyard is our Anderson Valley flagship. Family owned since 1994, and planted in 2000, our estate vineyard is tucked away in what locals call "The Deep End" of Anderson Valley, northwest of Philo. Here, coastal fog and redwoods frame the steep vineyard slopes where the vines root deeply to survive. The decomposed sandstone soils offer few nutrients but excellent drainage, resulting in small yields of well-structured fruit that can go the distance in the cellar.
Skycrest Vineyard
Anderson Valley, California
The Skycrest Vineyard is our highest elevation site in Anderson Valley, soaring almost 2000 feet above sea level in the hills northeast of Boonville. The blocks for Maggy Hawk's Skycrest Chardonnay cling precariously to the steep hillsides at the very top. "You almost have to wear gravity boots," says winemaker Tony Rynders. The cooler temperatures and stressful growing conditions mean the grapes ripen slowly, giving them greater depth of character.
Edmeades Vineyard
Anderson Valley, California
The Edmeades Vineyard was established in 1963, just north of Philo on the west side of Highway 128. This is a warm, flat site about 500 feet above sea level with clay soils and good sun exposure, so grapes tend to ripen earlier here. To help slow things down, Pinot Noir vines are positioned closer together than they are at the Maggy Hawk Vineyard.
Jory Hills Vineyard
Dundee Hills, Willamette Valley, Oregon
Established in 2002 the Jory Hills Vineyard delivers fruit-driven wines with great intensity. The vineyard sits at over 600ft in elevation among the Dundee Hills in the Willamette Valley. This cool climate region is well known for producing bright, crisp Pinot Noirs with elegance in spades. The Dundee Hills however, have become known for their bright red fruit and iconic spice notes that are a direct result of the famous Jory soils found in the region. Our vineyard is named after these red volcanic soils that impart their unique characteristics in the Pinot Noir vines grown there.