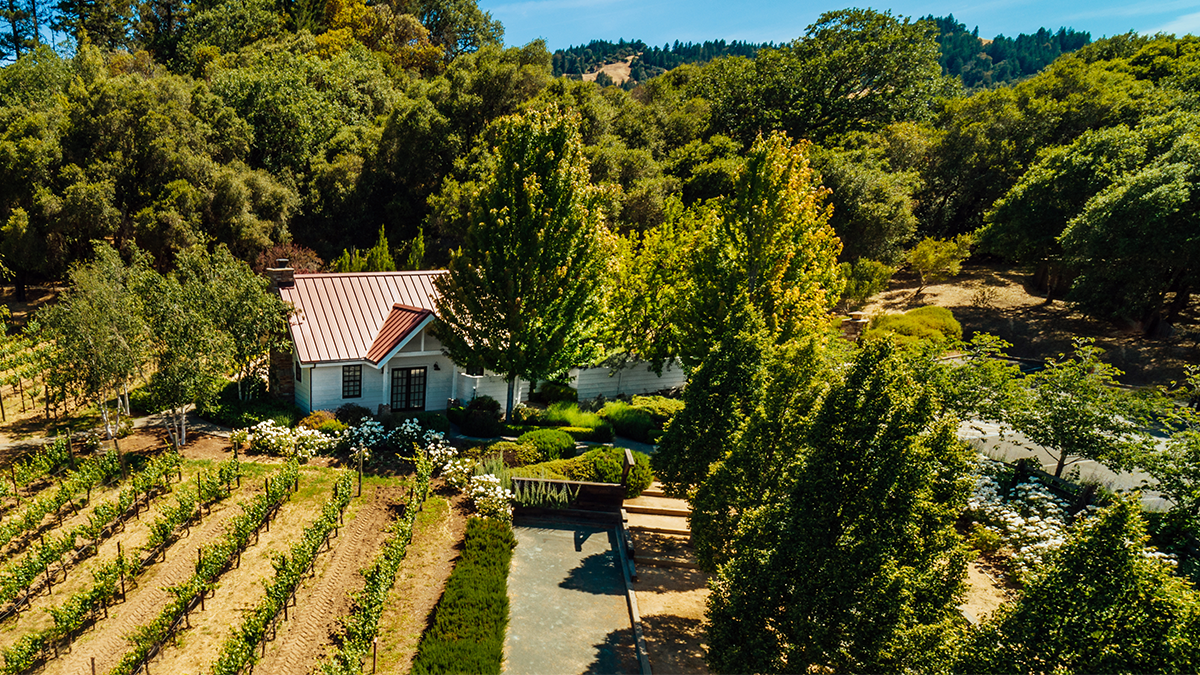 BEAUTIFULLY REMOTE AND SEEMINGLY UNTOUCHED
The Deep End of Anderson Valley, as the locals call it, is known for producing cool-climate Pinot Noir and Chardonnay with exceptional character and elegance. Tucked away in The Deep End, among the redwood forests and fog, lies our Maggy Hawk Estate Vineyard and Tasting Room.
We invite you to join us for a tasting of our current releases and explore the valley firsthand. Maggy Hawk also offers high-speed chargers for electric vehicles as well as a dedicated Tesla charger. Charging is complimentary for our Maggy Hawk guests.
9001 Highway 128, Philo, CA 95466
707-901-9040
EVENTS
Spring Celebration
Saturday, April 29, 2023
11am Maggy Hawk Vineyard Tour (Members Only)
12pm-2pm Spring Celebration Reception
General Admission: $40 per person to the 12pm Reception
Priority Allocation Participants: $20 per person for the optional 11am Vineyard Tour and 12pm Tasting Room Reception
We are thrilled to invite our Priority Allocation Participants to join Winemaker Sarah Wuethrich with a guided walking tour of the Maggy Hawk Vineyard in Philo! Participants will then be invited to join our Spring Celebration Reception at our Maggy Hawk Tasting Room, about 10 minutes south of our vineyard. Guests provide their own transportation to and from the vineyard.
General Public are welcome to purchase tickets to join our Spring Celebration Reception, where we will taste a selection of our new release wines as well as light fare to enjoy with the wines. Please use the General Public tickets link above to purchase.
Our Priority Allocation Participants receive two wine releases a year automatically. Participants will need to log into Tock using the same email address as their Maggy Hawk account to access their tickets. Those in our 12 Bottle Priority Allocation receive the first two tickets complimentary! Please use the Priority Allocation Participant Tickets link above to purchase.
Email info@maggyhawkwines.com or call (707) 901-9040 for assistance.
Anderson Valley Pinot Noir Festival Open House - Pinot & Pizza
Sunday, May 21, 2023; 11am-2pm
$40 per person
We are excited to fire up our wood-fired pizza oven and offering fresh pizzas to enjoy along with a lineup of a selection of our estate wines, including Pinot Noir, during this walkabout tasting event. Winemaker Sarah Wuethrich and our Estate team look forward to hosting you!
To stagger arrivals, please sign up for the time your party will check in. The event ends for all attendees at 2pm.
Participants in our Maggy Hawk Priority Allocation Program receive special pricing of $20 per person. Please reserve using the same email as on your account to receive special pricing.
Pinot & Pizza Pairing
Second Sunday, June-October 2023, weather permitting, various seating times
$45 per person
We are firing up our woodfired pizza oven and offering pizzas made with seasonal, local ingredients and pairing with a flight of our estate wines, including Pinot Noir! 
The flight includes four Maggy Hawk wines, and we will have two different pizzas to pair with the flight, one for white wines, and another for Pinot Noir.
For special dietary restrictions, feel free to email us at info@maggyhawkwines.com.
Participants in our Maggy Hawk Priority Allocation will receive $25 per person savings, up to four guests, by reserving using the same email as on their allocation.
EXPLORE ANDERSON VALLEY
Beautifully remote and quietly inspirational, the Anderson Valley is located just 110 miles northwest of San Francisco. The scenic, winding drive to the rolling hills and towering redwoods is an adventure in itself. At only fifteen miles long, our beautiful valley is bursting with culinary gems, extraordinary hiking, and small-town charm. Discover a taste of Anderson Valley with travel vlogger and our friend California Through My Lens and plan your escape to The Deep End. 
ADDITIONAL TASTING LOCATIONS
Maggy Hawk wines are also available to taste at our Spire Calistoga and Spire Alexander Valley Estates by appointment. Learn more about the Spire Collection or contact us for more information.
888-339-7726